Square Perfect Studio Flash/Strobe-Includes Softboxes - Backdrop - Muslin - Boom
SKU: 4135 SP4200 FLASH KIT
You asked--we did it. This is a top of the line package including everything you will need to take perfect pictures. We have gone all the way and included state of the art strobe heads, a boom stand, and even backdrops and a backdrop stand. We added a full compliment of accessories to make the perfect portrait package.
This set-up is a brand new design. It has a variable flash output of 200 w/s with power controls which allow you to operate the light from 1/32 power all the way to full power. This new 3 light kit gives you 600 w/s of power, is lightweight, portable, and simple to set up. With the softbox umbrellas attached on your main light you will be able to eliminate the harsh shadows and wrap the light around your subject to give you perfect pictures.
The SP4200 is lightweight, stylish, and very robust! It is designed specifically for 21st century photographers on the move. The 5 volts Sync voltage makes them highly suitable for use with all current digital and film cameras. Touch button controls allow the desired power levels and functions to be quickly set. Just like our other kits we wanted to offer a complete package with all of the necessary accessories. Thus, we have included a barndoor, honey comb filter, gels, and complete softboxes. This kit gives you all the power you will need to get perfect photos. These are 110 volt lights that plug into any household outlet. Dare to compare. . . .you will not find anything in this price range at this quality anywhere. This is a $2299 value.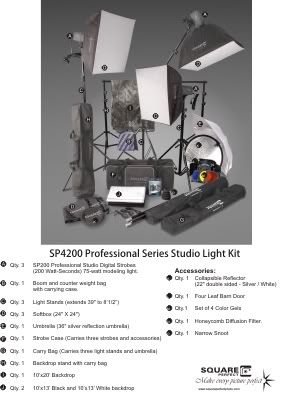 WHAT IS INCLUDED (REFER TO DIAGRAM ABOVE)
A
Three (3) SP200 Professional Studio Digital Strobes (200 Watt-Seconds) 75-watt modeling light.
The SP200 produces a superb warm light that will bathe your subjects in soft light. These are the best strobe we offer. They are guaranteed to give you years of service. They are perfect for commercial studios, location photographers as well as advanced amateurs. You can use this strobe for a main light, fill light, back light, or hair light. The SP200 incorporates digital cell control technology and a state of the art LCD display. The flashtube is removable and they were built to prevent "pink eye". Similar strobes strobe sell in professional camera stores for over $399 each.

Power Input : AC110-130 volt, 60 Hz AC200-240 volt, 50 Hz
Flash Power : 200ws (joule) in full
Guide No. : GN45
Color Temperature : 5600K
Flash-tube Lifetime : over 8,000 typical flashing
Power Setting : 1/32 to full continuously
Recharge Time : 0.5-2 seconds in full
Flashing Duration : 1/600 sec. @t=0.1; 1/1000 sec. @t=0.5
Effective Photo Sensor Distance: < 10m
Triggering Voltage: 5V DC
Triggering: Photo Sensor, sync cords, test button.
Modeling Power : Halogen 100w
Bulb Base : E-14 screw
Synch Voltage : 5volt
Fuse : 6A
Weight : 1.8Lb (800g)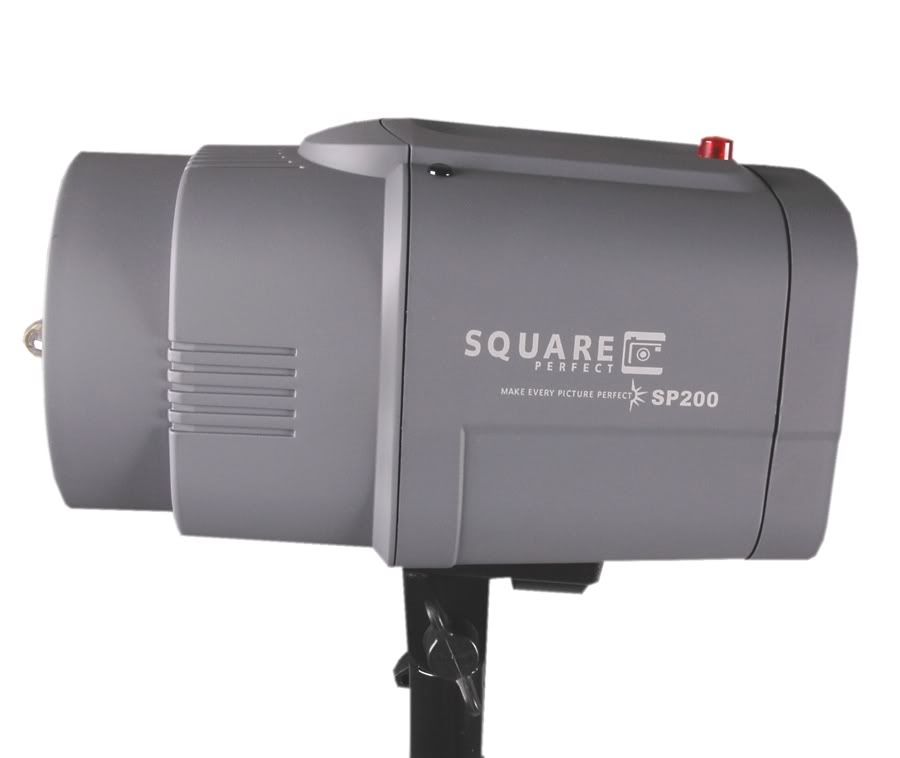 B
One (1) Boom and counter weight bag with carrying case.
Our professional boom and stand are perfect for your hair light. This is the light that seperates the novice from the professional. A boom will separate the subject from the background--this will prevent the subject from looking like a cardboard cutout. This is a must have for professional images. The Square Perfect Boom is made of premium aluminum construction and includes sand bags.

Black non-reflective finish
Use for a hair light, back light, fill light or main light
Perfect for photography or video
Counter weight bag can be filled with sand, gravel, nuts or bolts or water bag
Easy set up
C
Two (2) Professional Duty Aluminum Light Stands.
(2) Light Stands extend from 39 to 84 and the other extends from 18 to 39. Square perfect utilizes reinforced brace supports, and heavy-duty, riveted joints, to help ensure maximum stability and security. The three reinforced legs spread wide to prevent the stand from getting tipsy. The three stands are light-weight and extremely portable they fold down for easy transport. These are top quality heavy duty stands that more than adequately support the strobe units in this kit.

D
Three (3) 24" X 24" Softboxes
Made with top quality metal rod framework. These are beautiful looking as well as extremely functional, with a matte black outer surface and a highly reflective diffusion interior and detachable soft white diffusers for the faces. The softbox is extremely versatile in controlling light, shadow, and hot spots on reflective surfaces - which is why they are so popular among studio photographers.

E
One (1) Umbrella (33 silver reflecting umbrella).
This connects to the smaller strobe for background lighting. Umbrellas provide a uniform diffused light, but can create unnatural highlights on highly reflective objects. Umbrellas are often used in portrait photography where the circular highlight they create in the subject's eyes provides a more natural look than the rectangular highlight created by a softbox.

F
One (1) Carry case (designed to carry all SP4200 lights)
With multiple side and front pockets, you will have plenty of space for storage of film, memory cards, filters and cables. The exterior is made out of a resilient all-weather material to resist bad weather and dust.

G
One (1) Carry case (designed to carry 3 light stands and the umbrella)
With multiple side and front pockets, you will have plenty of space for storage of film, memory cards, filters and cables. The exterior is made out of a resilient all-weather material to resist bad weather and dust.

H
One (1) Background Stand with Carry case
(2) SP901 Square Perfect Lightweight Aluminum Tripods
(4) Premium Quality Support Bars
(1) Heavy Duty Premium Carrying Case
Super fast set-uptakes one man less than 5 minutes.
Holds canvas, muslin or paper
Telescopic cross bar extends to 10'
Stands extend up to 8'6"
Stands compact down to 4'
Extra wide footprint for added stability
Weight: 14 lbs.
Top quality heavy duty carrying case included free of charge
Excellent for field jobs and studio shoots

I
One (1) Grey Backdrop (10' x 20' large fabric backdrop)
Includes light proof carry bag. One 10' x 20' large fabric backdrop (makes an amazing patterned backdrop even in B/W shooting mode). What makes the "Square Perfect" muslin so special? Square Perfect only supplies the highest quality portrait backgrounds. We believe the underlying fabric is the most important part of top quality background muslin. We have searched the world over and partnered with a factory which utilizes the best cotton fabric availableit is heavy and durable. Every Muslin we sell is completely seamless and designed with the photographer in mind. The seamless and anti-wrinkle characteristics of our muslin material make this the ultimate muslin available.

SPECIFICATIONS:
100% cotton to absorb the light and help eliminate reflection. Our Grade A cotton and fine weaving ensures a seamless matte background that is free of texture and grain
4 inch rod pocket at one end allow for easy setup - no more confusion about which side is top. Beware of cheap alternatives that need to be attached with clamps or counterweights - this product is directly threaded to the cross bar
Dyed with the best quality dye. Our high quality dyes reduce the color deviation across the fabric surface - the color will not fade or wear with correct use and storage
Machine washable
Crimped along the edges to prevent tears
J
Two (2) Carry Backdrops (10 x 13') (one pure black and one pure white) Includes light proof carry bag.
WHY MUSLIN?
Muslin is by far the most versatile material for portrait backgrounds. It is light enough not to be a hassle, yet durable enough to last and get the job done right! We have found muslin to be by far the most versatile material for photography backdrops. It is great for all types of photography: family, children, high school seniors, bridals, models, or even commercial work. They can be hung on a background stand or on a ceiling mount system. In addition, they can be hung using "A" clamps.

WHY COTTON?
As you know, there are a million choices and just about as many sellers touting their backdrops as the best. One thing to note is the list of possible fabrics offered and the advantages and disadvantages of each. 100% Cotton is more durable than the 50/50 blend of Cotton and Polyester. It is softer to the touch and, in my opinion, photographs better than the 50/50 blend of cotton and polyester. Cotton is time tested and has always been the fabric of choice for professional photographers. It is slightly more expensive, but it offers more durability and performance than the cheap imposters. We have heard our competitors claims that their poly blends are superior to 100% cottonthis is simply not true. Ask any professional photographer and he will tell you the same.
K
22" (56cm) Collapsible (double side) Reflector (Silver and White)
Silver and White increases the highlights fill and yields a high-contrast image. It is a perfect item for product shots, wedding portraits, and B&W photography. Reflectors are really too general purpose to be called "studio equipment" but they are essential studio items and, if cleverly used, can eliminate the need for additional strobe heads.
Customer Reviews
(0.00)
(Only registered customers can rate)
One Year Limited Warranty
Square Perfect products are warranted to be free from defects in materials or workmanship for one year from the date of purchase. Within this period, Square Perfect will, at its sole discretion, repair or replace any components that fail during normal use. This warranty does not apply to damage caused by abnormal or unreasonable use, including any repair or attempted repair by anyone other than a certified Square Perfect authorized service technician, use of replacement parts that are not OEM parts, in addition to incidental or consequential damages. Using this product for anything other than its original intended purpose or altering this product in any way will void this warranty. There is a 30 day limited warranty on all consumable parts including fuses, flash bulbs and/or light bulbs as applicable.
If your Square Perfect product has a manufacturer's defect covered by our warranty, we will either repair or replace it, at our option, without charge or refund. Such repairs, or items deemed to be eligible for replacement, will be made at no charge to the customer for parts or labor, provided that the customer shall be responsible for all shipping costs. This warranty does not apply to: A. cosmetic damage, such as scratches, nicks and dents; B. consumable parts, such as fuses and light bulbs, unless product damage has occurred due to a defect in materials or workmanship; C. damage caused by accident, abuse, misuse, water, flood, fire, or other acts of nature or external causes; D. damage caused by service performed by anyone who is not an authorized service provider of Square Perfect; or E. damage to a product that has been modified or altered without the written permission of Square Perfect. In addition, The original purchaser who has provided proper proof of the original retail purchase and all other requested information is the holder of this warranty.
Please note that repair costs and handling charges may apply if any issue was found to be the fault of the end user. Please be prepared to provide the unit's serial number, if applicable, your return shipping address and a daytime phone number and proof of purchase.
Square Perfect retains the exclusive right to repair or replace, with a new or newly-refurbished replacement machine or part, the product or offer a full refund of the purchase price at its sole discretion. SUCH REMEDY SHALL BE THE SOLE AND EXCLUSIVE REMEDY FOR ANY BREACH OF WARRANTY.